Join us for a 4.5 mile loop hike into the Liberty Canyon Preserve by way of Heartbreak Hill. They don't call the hill "Heartbreak" for nothing. The first half mile contains a 500 ft elevation gain. The next mile has a couple rolling hills. After that its all downhill on the Phantom Trail into Liberty Canyon. We will exit the Preserve on Liberty Canyon Trail and return to Agoura Rd along residential Liberty Canyon Rd.
Its not as bad as it sounds. Since the strenuous section is short, this is a good hike for moderate hikers to test themselves. Net elevation gain is about 650 ft, total ascent 1,075 ft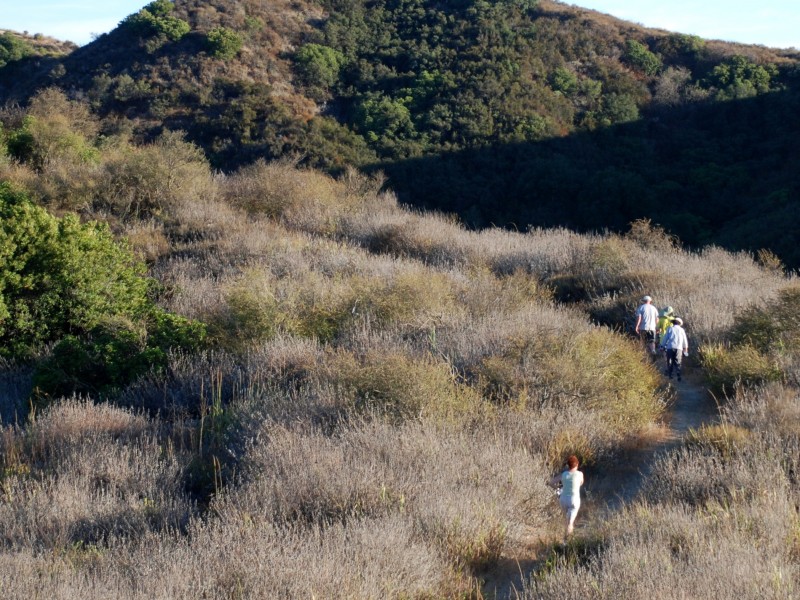 Bring one quart water, and a rewarding snack for the top
Directions:
From Highway 101, exit on Liberty Canyon Road and drive 0.1 mile south to Agoura Road. Turn right and drive 0.3 mile. Trail head will be on the left. Park on either side of the road.
Address on map is approximate. Here is what the trail head looks like
[av_image src='https://www.hikingwithdean.com/wp-content/uploads/2019/04/Heartbreak-hill-trailhead-1030×394.jpg' attachment='19963′ attachment_size='large' align='center' styling=" hover='av-hover-grow av-hide-overflow' link=" target=" caption=" font_size=" appearance=" overlay_opacity='0.4′ overlay_color='#000000′ overlay_text_color='#ffffff' copyright=" animation='no-animation' av_uid=" admin_preview_bg="][/av_image]