Evening Hike: Heartbreak Hill – Liberty Canyon – Phantom Trail Loop
April 24 @ 6:00 pm
-
8:00 pm
Join us for a 4.5 mile loop hike into the Liberty Canyon Preserve by way of Heartbreak Hill. They don't call the hill "Heartbreak" for nothing. The first half mile contains a 500 ft elevation gain. The next mile has a couple rolling hills. After that its all downhill on the Phantom Trail into Liberty Canyon. We will exit the Preserve on Liberty Canyon Trail and return to Agoura Rd along residential Liberty Canyon Rd.
Its not as bad as it sounds. Since the strenuous section is short, this is a good hike for moderate hikers to test themselves. Net elevation gain is about 650 ft, total ascent 1,075 ft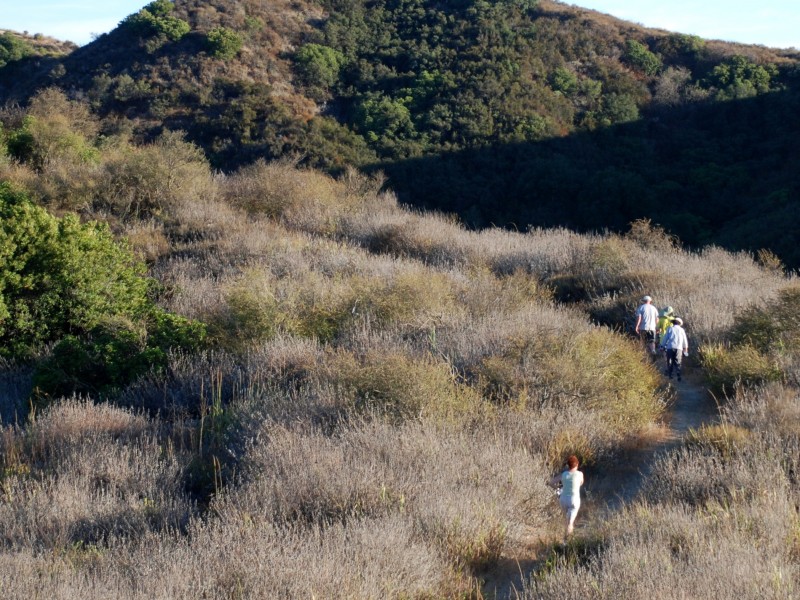 Bring one quart water, and a rewarding snack for the top
Directions:
From Highway 101, exit on Liberty Canyon Road and drive 0.1 mile south to Agoura Road. Turn right and drive 0.3 mile. Trail head will be on the left. Park on either side of the road.
Address on map is approximate. Here is what the trail head looks like
Trail statistics are approximate.  For safety purposes always assume they are underestimated. But don't be disappointed if they are overestimated. Bring more water and snacks than you think you'll need.
Trail descriptions are based on previous hikes. Current conditions are unknown until arrival. Expect the unexpected and plan accordingly.
The Organizers and members in this group are not professional leaders, guides, or mountaineers. The function of the member or organizer is only to organize the trip. Each person who shows up for a trip/meetup (and their guest or guests) is responsible for his or her own safety. By attending a hike, or any other event organized by this group, you are acknowledging that you and any guests that you bring are aware of the risks, dangers and hazards associated with the activity and freely accept and fully assume all such risks, dangers and hazards, and further agree to release and discharge the Organizers, Members of the Hiking With Dean Meetup Group from and against any and all liability arising from your participation in the group activities per the ASSUMPTION OF RISK AND LIABILITY WAIVER.
"HWD is a participant in the Amazon Services LLC Associates Program, an affiliate advertising program designed to provide a means for sites to earn advertising fees by advertising and linking to amazon.com."